Farm Fresh came to the 2015 EPCOT Food and Wine Festival with some powerhouse offerings. Along with the Griddled Yard Bird guests could indulge in one of the tastiest mac and cheeses you can imagine. And today you can make this right at home (while planning your next trip to Disney that is).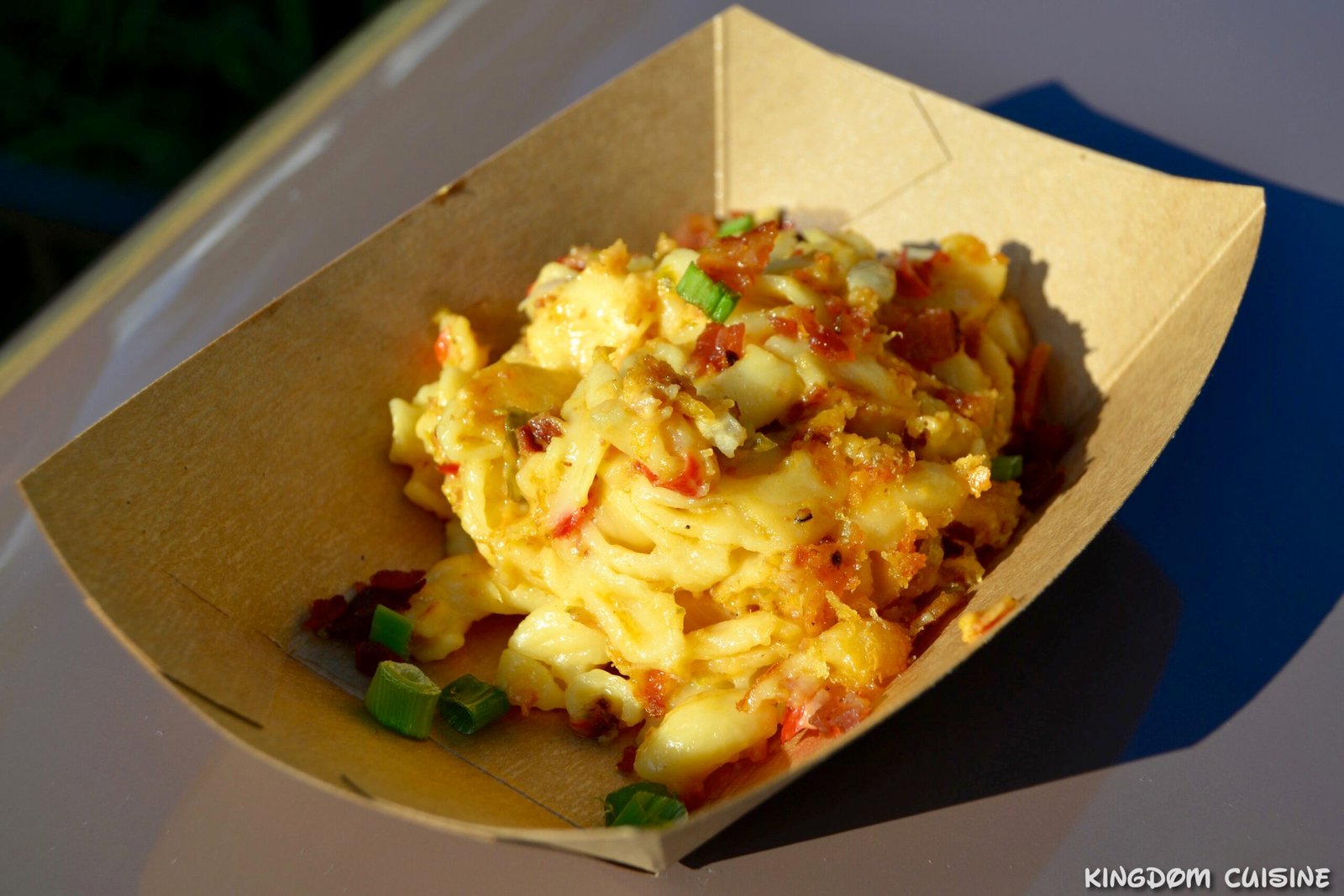 Ingredients
For the pepper bacon macaroni:
1 pound macaroni
8 slices pepper bacon
1/2 cup diced white onions
1/2 cup diced green pepper
1/2 cup diced red pepper
3 small jalapeño peppers, seeded and diced
For the cheese sauce:
2 cups heavy cream
1 pound (4 cups) shredded cheddar cheese
1/4 pound (1 cup) shredded Monterey Jack cheese
1/4 pound sliced american cheese
2 ounces (1/2 cup) shredded Gruyere cheese
Topping:
1/2 cup panko bread crumbs
2 sliced bacon, cooked and chopped
3 green onions, sliced
Coarse salt and freshly ground black pepper to taste
Instructions
For the pepper bacon macaroni:
Cook pasta according to package directions, drain and set aside.
Cook pepper bacon until crisp, chop and set aside. Reserve 2 tablespoons of grease.
Heat grease in a medium skillet over medium heat for 3 minutes.
Add onion, green pepper, red pepper and jalapeño. Sauté for 3-5 minutes, until vegetables are warm but still crisp then set aside.
For the cheese sauce:
Heat cream in large saucepan over medium heat.
When cream begins to simmer, slowly stir in all of cheese mixing well to melt cheese.
Assemble and serve:
Preheat oven to 350ºF.
Combine cooked pasta, vegetables and cheese sauce in a large bowl.
Pour into a 9- x 13-inch baking dish and top with breadcrumbs.
Bake 15 minutes or until breadcrumbs are golden brown.
Remove from oven and sprinkle with green onions and bacon. Season with salt and pepper. Serve hot and enjoy!
Do you love Disney food and all things Mickey-shaped?
Share your delicious snacks with us on Instagram and be sure to tag #SnackSquad to be featured!
Discover Snack Squad T-Shirt from Kingdom Cuisine only on Teespring – Free Returns and 100% Guarantee – "If it's Mickey-shaped it's automatically…